There's nothing we at Twosix dream of more than a healthy escape! A detox retreat where we can spend our days yoga-ing, eating fresh healthy food and re-charging our bodies….. so while we continue to dream we thought we would chat to Jenna – the beautiful and inspiring soul behind Talalla Wellness, a wellness retreat in Sri Lanka. We are so thrilled to share her story, why she decided to create Talalla Wellness and why she believes its so important everyone takes time to recharge.
---
Jenna, what inspired you to create the amazing Talalla retreat?
I can't take credit for creating Talalla Retreat (that is Laurie Rose from Byron Bay's epic creation)– what inspired me to create Talalla Wellness and the retreats was finding a healthy holiday option that ticks most boxes, where people can continue their wellbeing journey or access ways/services/tools to balance their mind, body and soul. Our time off is so precious – the retreats are the perfect blend of activity, rest, growth and fun.
---
You are a picture of health currently, have you always been interested in health and wellness?
Why thank you! J I have always been physically active (sport etc from a very young age) but my 'holistic' approach to wellbeing was triggered in 2013 after suffering mega burn out and depression as a busy video producer and working on a super yacht  in the south of France (the combination of the two lead to a little personal hiatus in Thailand for 4 months) – I dedicated my time to investing in myself and others, learning, sharing and growing. I think the additional turning points have also been losing friends and family to suicide. Health and wellbeing to me are so much more than diet and exercise, not that they aren't huge factors.
---
What do you think are the key ingredients for a happy, healthy life?
I'd say a fair bit of introspection: learning about who you are, your values, your triggers, and not being so serious about it all. No one is perfect.
In the words of Alan Watts
"It's better to have a short life that is full of what you like doing than a long life spent in a miserable way"
I also tend to live by our motto Eat Well, Move More, Live Better.
---
You spend so much time in Sri Lanka now, tell us why you chose this spot for your retreats?
My previous business partner and I were wanting to expand our retreat locations beyond Australia and Bali.. both of us visited Sri Lanka and oddly enough at the time my flat mate in Sydney suggested we visit his friend's property, Talalla Retreat. As soon as we landed there we knew it was the right place – the location, environment, staff. It was magic.
When we decided to dissolve that business, I wanted to continue the retreats in Sri Lanka as I have always wanted to split my time between the tropics and Australia. The culture and people of Sri Lanka drew me in and I love the simplicity of living there. It's village life where we are –  family, community, sharing (oh and I HATE cold weather…  I'm not built for it)
---
What do you intend people to experience at your retreat?
Rest, reflection, relaxation, fun, inspiration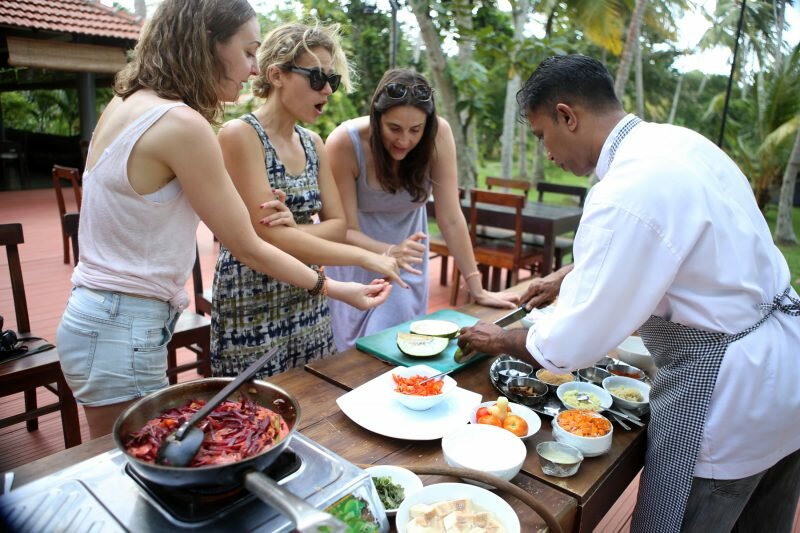 ---
Why do you think it's important for people to recharge?
So many of us a 'doing' all the time. We have so many commitments – career, family, home etc and self care is really important. We are so often the last priority, yet we should be our first. Taking the time out to recharge and reconnect with ourselves offers us the ability to better serve, connect and experience in those areas of our lives.
---
Your favourite spot of the retreat?
Our Beach Shala (sunrise or sunset yoga or meditation with the sound or view of the gentle waves lapping the shores amongst the palms…
---
Your favourite experience at the retreat?
Surfing or safari… it's amazing watching people learn to surf and be in nature. SO MUCH FUN. *insert shaka emoji
---
Can you take us on a typical day at the Talalla retreat?
Wake up to the sounds of chipmunks and peacocks and head to morning meditation on the beach, followed by a Pilates, Boxilates or Yoga class (sometimes two!) and delicious buffet breakfast on our open-air palm fringed deck. Post breaky is free time, a full body massage or 1:1 wellness consult or postural assessment.
After lunch is an afternoon Surf lesson at one of our local breaks and if we're up for it a post-surf sunset cocktail or beer on the beach before a BBQ dinner amongst the birdlife and fireflies in our restaurant. We're usually in bed by 9 pm! But if we're up for it a Yoga Nidra or Movie night post-dinner is the perfect ending to a stunning day.
---
What's your current life mantra?
Keep your head up and your heart open
---
QUICK QUESTIONS
After work, I like to… surf
Happiness is… a feeling
What makes me laugh… dogs of Instagram particularly when they fail. And my friends.
Favourite Disney character? Dory (wait… is that Disney?) if it isn't then Pumba from the Lion King
I like my coffee with… friends
Favourite Instagrammer at the moment… @Elle_Fit
If I were a vegetable I would be… acorn on the cob – vibrant, juicy and sweet
Who do you want to be when you grow up? I think I'm already grown but Retired?
Strange Indulgence? Vegemite, avo + cheese
Tomorrow I will… be grateful and most probably surf
---