We're so excited to be picking the brains of the trio behind Golden Grind, the founders share with us how they came to create their Golden magic – a mix of Turmeric, Cinnamon, Ginger and Black Pepper, who they'd love to see sipping on their grind, and give us solid advice on how to get behind local business.
Tell us a little about Golden Grind?
A delicious, all natural, superfood so tasty to drink, you'll be left wanting more. It is the perfectly proportioned blend of 100% natural, unmodified turmeric, cinnamon, ginger and black pepper. Our special blend creates an amazing Golden Latte just by adding hot water and your favourite milk or mylk.
How did this incredible product come to life?
We'd all been eating and drinking Turmeric to trial it's anti-inflammatory properties. We'd been recommended it from a Chinese doctor so we'd been giving it a go and we were completely flabbergasted by its results. It really worked, more so than various rubs and ointments that we'd tried. And it tasted good!  We wanted more people to experience the amazingness of turmeric so from there, we started serving our infamous 'Golden Lattes', a mix of Turmeric, Cinnamon, Ginger and Black Pepper. We put them on the menu at the cafe and we saw everyone else loved them as much as we did!
Do you remember how you first thought of creating Golden Grind?
While we were running our family café golden lattes were really popular but the mixing process of making them was a bit of a yellow stained pain. We tried to purchase it pre-made but it wasn't available – hence the creation of Golden Grind!
If Golden Grind were a person how would you describe them?
Healthy, uplifting, innovative, caring, fun.
Who would you love to see drinking Golden Grind?
A bit of a generalisation but everyone!! We would love to see everyone experiencing the benefits of a Golden Grind latte.
Why was it so important to create a product 100% natural and 100% tasty!
We pride ourselves on Golden Grind being 100% organic. All of us lead healthy lives and value the importance of natural products with no added sugar. So with the product being 100% natural and 100% tasty this is the perfect combination.
How can we expect our mind & body to feel after we finish our cup of Golden Grind?
Golden Grind will make you feel Golden from the inside-out while encouraging you to be present and enjoy this beautiful world.
Tell us how to make the perfect Turmeric Latte…
Get 1 flat teaspoon of Golden Grind. Put in a cup. Add about 3 teaspoons of hot water. Enough to make a paste with the Golden Grind powder. Mix the Golden Grind powder with the hot water into a paste. Add warmed Milk (or mylk – we love coconut milk) to fill up the cup and stir. If you don't have a milk frother or warmer, add cold milk and pop in the microwave for 60 seconds. Pop some cinnamon on top
Smile – you've just made your insides healthier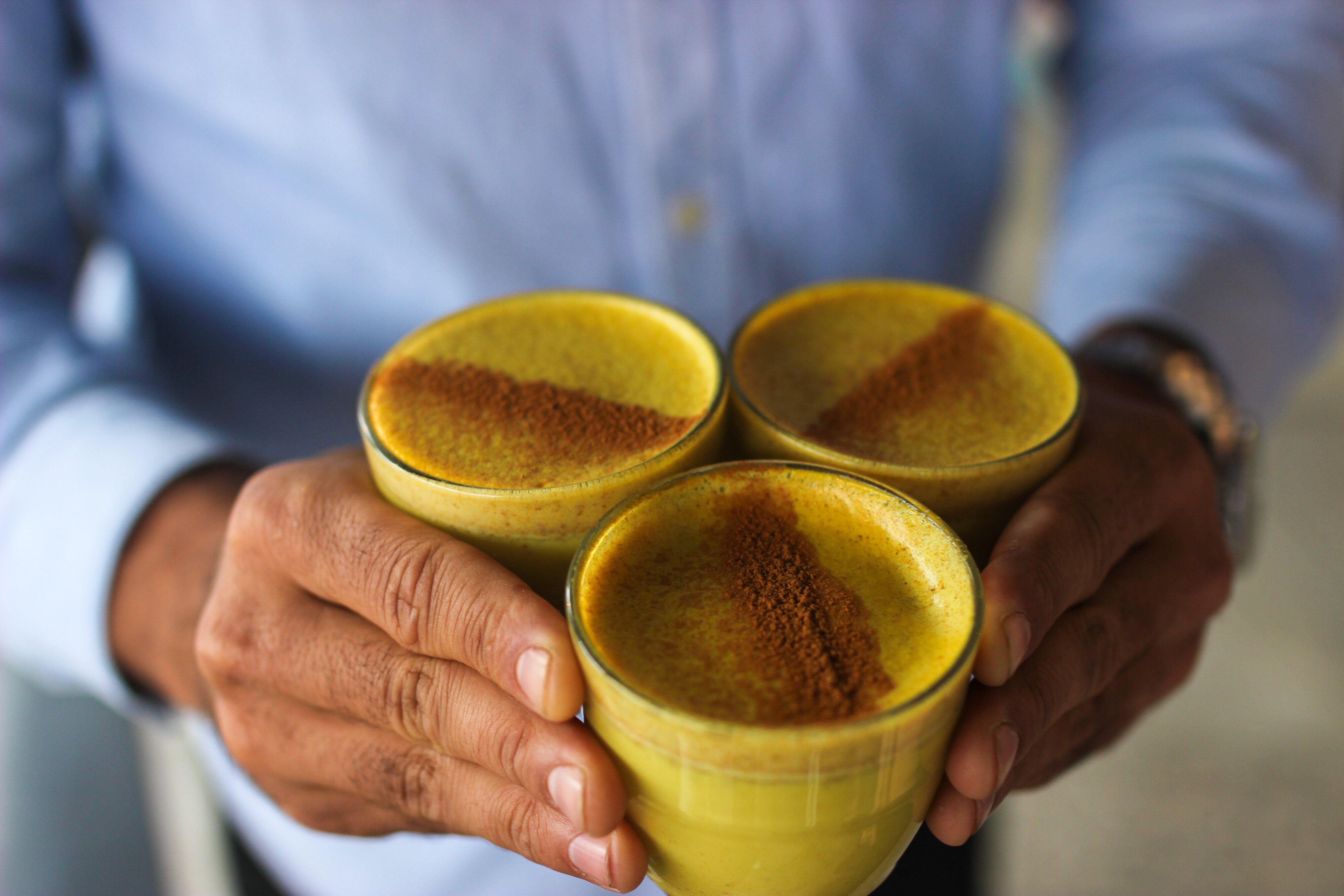 Has health always been important to you?
Health has always been important to us. We were taught very young about healthy food and our mother was passionate about it.
What are some of the simple ways people can get behind local growing businesses?
It is so important to support the local industry. If you hear of a product you want to try see first if someone makes it locally and support them!
Lastly, we love stalking your Instagram! Can you tell us who or which accounts you're loving at the moment?
Anyone that has purposeful posts. The Cool Hunter has great images. And we do follow The Fat Jewish for a laugh!