Meet our latest Local Love Jarryd Burns the co-founder and Commercial Director at Thankyou. From a very young age, Jarryd has been both tremendously business-focused and passionate about making a powerful difference in this world. As a result, Jarryd jumped at the opportunity to be part of launching Thankyou Water in 2008. Equipped with a finance degree from La Trobe University, Jarryd is fervent about what he does and making sure it's done well. He oversees the finance and operations functions at Thankyou, and in his role has lead the smooth expansion of over 50 products as well as the building of strong relationships with major retailers like Coles and Woolworths. Having navigated through a startup journey that was full of challenges, Jarryd is extremely passionate about helping others become the best they can be, regardless of what obstacles they face.
Can you tell us a little about who you are and your role within Thankyou?
I'm 29, I'm husband to Jess and father to my 18-month-old daughter, Jordan. I love AFL, Mixed Martial Arts (MMA) and all things sports. I'm a co-founder at Thankyou and have just changed roles to head up Supply Chain and Procurement for the team. Making sure all of our products get from our suppliers to our customers.
Why did you create Thankyou (and why water?) can you tell us the philosophy behind the business?
Daniel, Justine and I were 19 and 20-year-old uni students when we launched Thankyou water in 2008. At the time, 900 million people around the world didn't have access to safe water but in Australia, we were spending $600 million on bottled water. It was these two crazy extremes that drove us to do something. We started with a simple premise that we still have today, which is to create great products that give 100 percent of the products to help end global poverty.
If Thankyou were a person how would you describe them?
I think if Thankyou were a person, you would describe them as incredibly passionate, about the cause and our vision, and they would be pioneering; always dreaming big and breaking out of the status quo.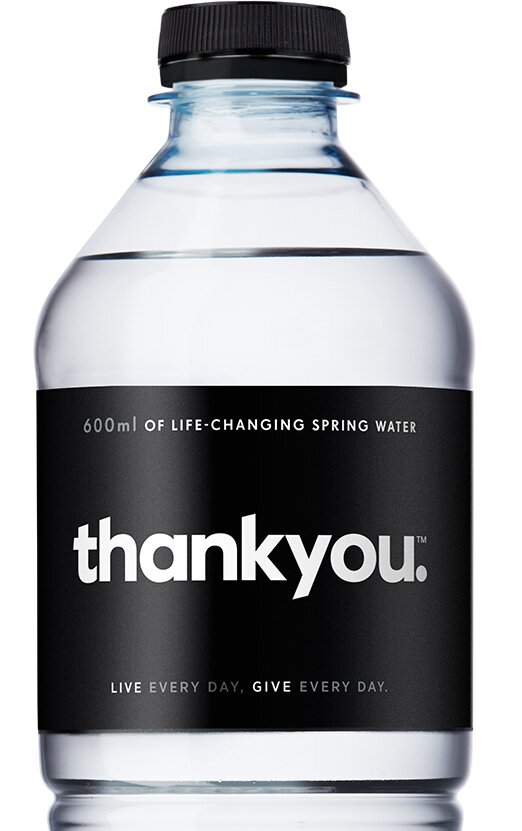 Starting your own business can be challenging, exhilarating and scary – sometimes all at once…. What do you think is the most challenging?
When you're starting a business, one of the most challenging things is not knowing how long it's going to take you to your idea off the ground. We thought it would take us three months to but ended up being three years. It's a rollercoaster of emotions, and you don't know when it's going to end, but I think persistence is key. You just have to hang in there.
What is your relationship with 'you' like these days? Has it changed since starting Thankyou?
When I first started Thankyou, I wanted to be across everything. I thought I could add value everywhere in the business but over time I've become much more self-aware. I was able to reign in my focus after I stopped comparing myself to others and have become much more confident in knowing what I can bring to the team.
We feel it's extremely crucial to support local industry? As an established and thriving Australian business, what are some of the simple ways people can get behind businesses like Thankyou, especially those in the social enterprise space?
I feel it comes down to using your purchasing dollar for good. There are so many amazing social enterprises our there with products and services to offer which are just as good, if not better than their big competitors. It's about making a choice. There's this great website called Social Traders (www.socialtraders.com.au) which is worth checking out if you're interested in connecting with social enterprises around the country.
We were fortunate enough to visit your incredible head office in Melbourne and were blown away by how engaged and satisfied your staff were, what advice can you offer our corporate clients on how to create an environment that supports and nourishes it's staff?
We've been very intentional about creating a workplace that treats its staff as people, rather than 'human resources'. We want to create an environment where people can do their life's best work. We value each and every one of our staff and try and support them as much as possible as they go about their work. We also focus heavily on team-related activities, whether it's a team day at the beach, squats as a team at 3 pm (aka, Squat O'Clock) or Team Thankyou, where we get together every Friday afternoon and thank each other for things they have done throughout the week. All these things go towards creating a strong culture that's more than just a workplace.
Can you share what with our readers what timeout for Jarryd looks like?
You'll either find me unwinding on the couch, watching something sport related (if I have the remote) or Peppa Pig (if Jordi is controlling it). I also like to get out to the gym for a quick workout.
What mantra do you live by or trust to guide you day to day?
If you don't change the game…someone else will!
Quick Questions…
After work, I like to….rush home to spend time with my girls before we put Jordan down to sleep
Happiness is….that first sip of coffee on a Spring morning
What makes me laugh….watching my daughter discover something new
Favorite Disney character? Simba from the Lion King
I like my coffee with….not much milk, and maybe an extra sneaky shot of coffee
Favourite Instagramer at the moment…. @thenotoriousmma and @garyvee
If I were a vegetable I would be…sweet potato for sure
Who do you want to be when you grow up? The best version of myself I can be
Strange Indulgence? The Bachelor
Tomorrow I will…hang out with Jordi in the morning and then go and train Jiu-Jitsu, and then sleep!