We're so excited to introduce you to the brains behind TOM Organic – the leading Australian Organic personal care brand for women. Through her passion for sustainability, an admirable respect for the earth and concern for women's health, Aimee dedicates her time to teaching women on the importance of choosing organic personal care products.
More than ever we hear about the uncertainty of what we put into our mouths, with terms like gluten free, vegan, biodynamic and the like becoming more and more prevalent in our everyday life – but what about what we put into and on our bodies? This is where TOM Organic steps in. Aimee's story is an inspiration, we chat to her about her influences, starting her own business and what's next for TOM Organic.
---
Firstly, can you tell us a little about you and what inspired you to create the TOM Organic range?
I'm Founder and CEO of TOM Organic, Australia's first certified organic cotton range of personal care products for women. I am a lover of organics, tea, design, travel and entrepreneurship. I am also mother to my twin girls Ivy and Poppy who turn two in August.
I came up with the idea of TOM Organic during a project in high school and solving the problem of tampons falling out in my handbag. Things quickly evolved into something else when I learned about the impact that conventional products have on our health and the environment. When I hit the ingredients list, it changed the entire focus of what I wanted to do. I was horrified by what was in my tampons (polypropylene, viscose and rayon) and I knew that I had to find an alternative for myself and for women. After researching and sourcing the finest organic cotton in the world, TOM Organic was born, bringing products to the hands of women, without a single chemical or pesticide in the process, from the farm to your bathroom.
---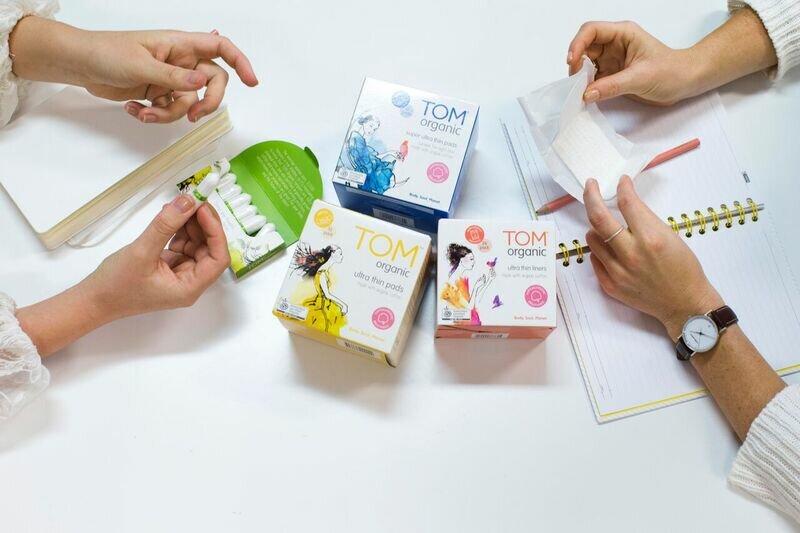 ---
Have you always been conscious of your own health and wellbeing? If no, when did the change happen?
I've always had a healthy approached to eating and exercising regularly. My health and the health of my family is nonnegotiable.  I know that when I move my body I am more efficient and happier – it's a tiny percentage of my day that I dedicate to myself which makes me feel good and provides me with the energy to give to my family and TOM Organic.
---
What do you want women who use TOM Organic to feel and experience when using your products?
TOM Organic is so much more than a female personal care brand. Our mission is to empower women to live healthier, more fulfilled lives – to inspire conscious living, so women are empowered to make their own informed decisions and talk openly about their needs and their health.
---
What do you believe is the most important change people should make if they want to be kinder to themselves?
To take time out for themselves. It's important to schedule in thinking time, to take a break, whether it be a mini weekend escape, going for a walk or enjoying a massage. I make an effort to meditate for 20 minutes each morning before the girls wake up which is the best way to start my day with a clear and focused mind.  I've been most surprised at how powerful taking time out is, even if it's an hour a week (and I'll be honest, I need to do more of it!)
---
Starting your own business can be challenging, exhilarating and scary – sometimes all at once….What do you think is the most challenging?
Learning to trust my gut instincts and never compromising on my own values. You have to believe 100% that no-one knows your business better than you. I'm also incredibly grateful to the many mentors I've met along the way. Surrounding myself with a network of people who I admire and who come with a wealth of learnings, has been invaluable.
---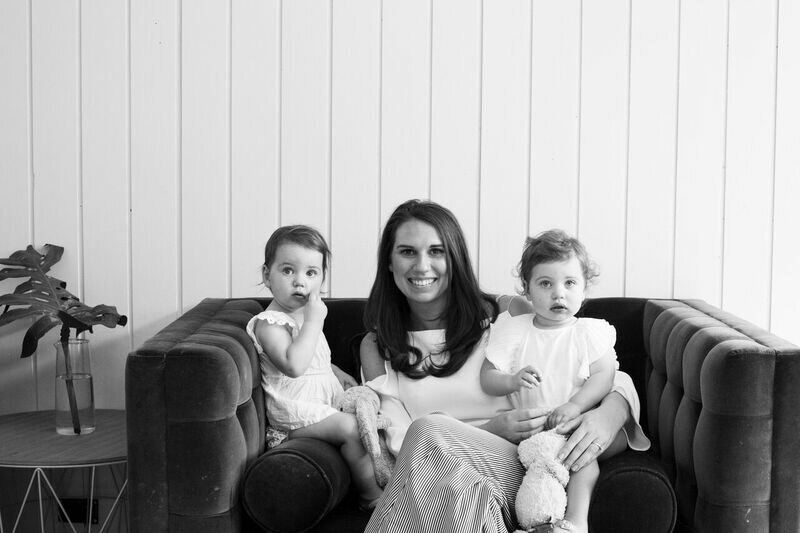 ---
What does 'me time' look like for you?
Me time looks like breakfast before I arrive at the office. I take this time to journal, prioritise and organise my life. I love spending time on my parent's farm down at the Mornington Peninsula where we can disconnect, spend time with my husband Chris and enjoy watching the girls can play freely.
---
Balance means…
Finding a balance has been a lot of trial and error. Once I settled into motherhood, I slowly introduced new layers of work into my life and gave them space to settle to ensure I could give equivalent value to both work and family. I work best in short bursts, once I have exercised. It has taken some time to experiment with what works for me, find my momentum and use my brain again in a different way.
---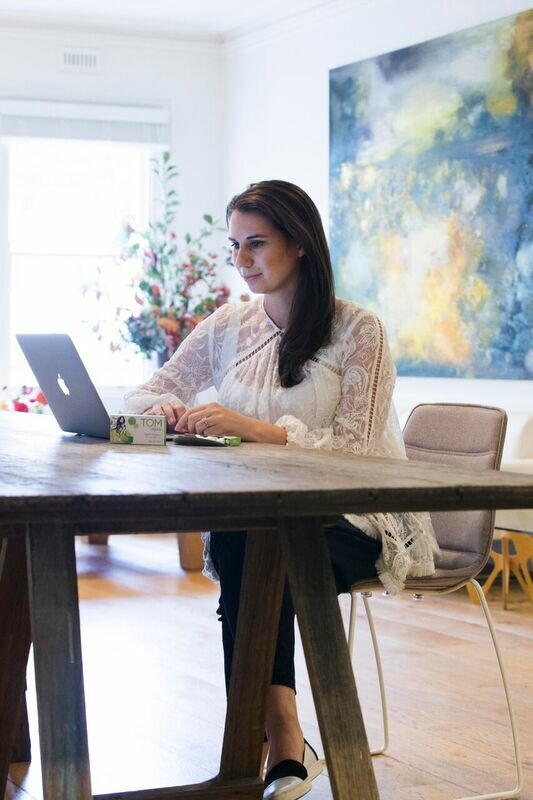 Is social media the key to getting a healthy message out there? 
Social media plays a key role in sharing our message. It provides our community with daily burst of inspiration, education and enables us to have honest and opened conversations around women's health to the surface.
---
We feel it's extremely crucial to support local industry? As a growing business, what are some of the simple ways people can get behind businesses like TOM Organic?
By supporting your local ethical and organic grocers in the neighbourhood. We love The Staple Store in Ripponlea, The Common Good Store in Hawthorn, Terra Madre, The Aboutlife Group, La Manna Direct and Nourished Life. All products are lovingly created and sourced. Also, requesting smaller brands to be stocked at larger supermarket chains.
---
What's next for you & TOM Organic?
My focus for this year is on developing pure and sustainable products for babies. The Mothers in our community have been asking for these products and we are excited about developing a range that offers them the ultimate in purity and performance to nurture their little ones when they need it the most.
---
And lastly, what is one of your favourite quotes?
"Enjoy the little things in life because one day you`ll look back and realise they were the big things." – Kurt Vonnegut
---
Interview by Bree Pagliuso & Emma Udorovic. Co-Founders of Twosix Wellness