Home Benefits Services Packages Testimonials Contact Us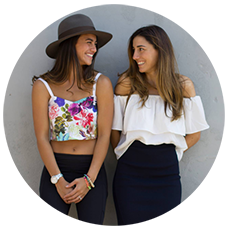 Bree and Emma's shared love and passion for all things health and wellness led to co-founding an online magazine focused on healthy and holistic living. Previously, having both worked in the corporate environment for over 10 years, Bree & Emma experienced first-hand the common sedentary lifestyle which often effects employees. Realising it often wasn't by choice, but due to a full schedule and lack of time, it meant that health and wellbeing often became less of a priority, with work-life balance not being a necessity but a luxury. They noted a gap within the market and it led to the expansion of their business into Workplace Wellbeing.
Bree and Emma are both qualified trainers who aim to share their knowledge, experience and skills with the corporate world. Twosix Workplace Wellbeing sessions have an emphasis on stress management, wellbeing and creating a work-life balance. Our unique sessions will empower your staff to lead a consciously healthier life in and outside of the office. With a healthy body and healthy mind, staff will be more motivated personally and professionally.